Sweden shares the wolf population in Norway, but the bulk of the population is found in Sweden. It is mainly in central Sweden with the densest concentration of Värmland, Dalarna, Örebro, Gävleborg, Canyon and parts of Bay State.
Varg: Family groups and couples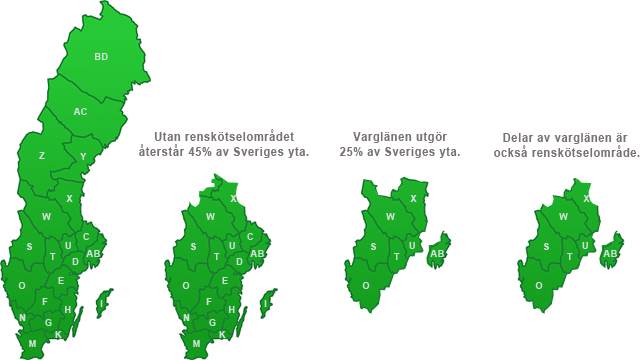 wolf Rejuvenation 2011. preliminary report 20120217, Viltskadecenter
> report inventory-sized predator-2015
WOLF & VERY genetics
Ten regeneration 2011 documented to date
Grimsö (JJ) Until the 31 January this year Viltskadecenter documented ten litters of wolves in Sweden 2011. The report shows that the County Administrative Board staff continues to inventory until the end of March.
Total number of people: 277 047
Share of total population: 2,9%
Number of people living outside urban areas: 55 610
Percentage of population living outside urban areas: 20%
Province's total area: 28 193 km2
Number of cattle: 32 928
Number of holdings with cattle: 640
Number may: 17 677
Number of companies with sheep: 326
Total number of people: 276 508
Share of total population: 2,9%
Number of people living outside urban areas: 60 032
Percentage of population living outside urban areas: 22%
Province's total area: 18 192 km2
Number of cattle: 41 006
Number of holdings with cattle: 750
Number may: 16 683
Number of companies with sheep: 318
Total number of people: 273 265
Share of total population: 2,9%
Number of people living outside urban areas: 69 951
Percentage of population living outside urban areas: 26%
Province's total area: 17 586 km2
Number of cattle: 50 745
Number of holdings with cattle: 817
Number may: 19 159
Number of companies with sheep: 408
Total number of people: 252 756
Share of total population: 2,7%
Number of people living outside urban areas: 31 396
Percentage of population living outside urban areas: 12%
Province's total area: 6 302 km2
Number of cattle: 20 248
Number of holdings with cattle: 296
Number may: 10 887
Number of companies with sheep: 147
Total number of people: 1 580 297
Share of total population: 16,8%
Number of people living outside urban areas: 253 542
Percentage of population living outside urban areas: 16%
Province's total area: 23 945 km2
Number of cattle: 257 012
Number of holdings with cattle: 3 898
Number may: 80 553
Total number of people: 280 230
Share of total population: 3%
Number of people living outside urban areas: 48 569
Percentage of population living outside urban areas: 17%
Province's total area: 8 517 km2
Number of cattle: 36 201
Number of holdings with cattle: 537
Number may: 23 701
Number of companies with sheep: 307
Number of companies with sheep: 1 493
Total number of people: 429 642
Share of total population: 4,6%
Number of people living outside urban areas: 67 179
Percentage of population living outside urban areas: 16%
Province's total area: 10 562 km2
Number of cattle: 113 537
Number of holdings with cattle: 1 221
Number may: 47 696
Number of companies with sheep: 566
Total number of people: 2 054 343
Share of total population: 21,8%
Number of people living outside urban areas: 87 570
Percentage of population living outside urban areas: 4%
Province's total area: 6 490 km2
Number of cattle: 20 563
Number of holdings with cattle: 428
Number may: 20 445
Number of companies with sheep: 325
Sweden
population total: 9 415 570
Total areal: 410 335 km2
The area below the limit reindeer: 182 360 km2
Population below limit reindeer: 8 538 359
Number of cattle: 1 536 700
Number of cattle grazing below limit: 1 412 311
Number may: 564 900
Number may be below the limit reindeer: 528 561
Summation and share accounting for all counties where wolf is
Total number of people: 5 424 088
Number of people living outside urban areas: 673 849
Share of total population: 7,2%
Proportion of the population below the reindeer border: 7,9%
Total areal: 119 787 km2
Share of the total area of ​​Sweden: 29,2%
Share of Sweden's total area below the reindeer border: 65,7%
Agriculture Related
Number of cattle: 572 240
Share of total number of cattle: 37,2%
Share of total number of cattle grazing below the limit: 40,5%
Number may: 236 801
Share of total number of sheep: 41,9%
Share of total number of sheep grazing below the limit: 44,8%